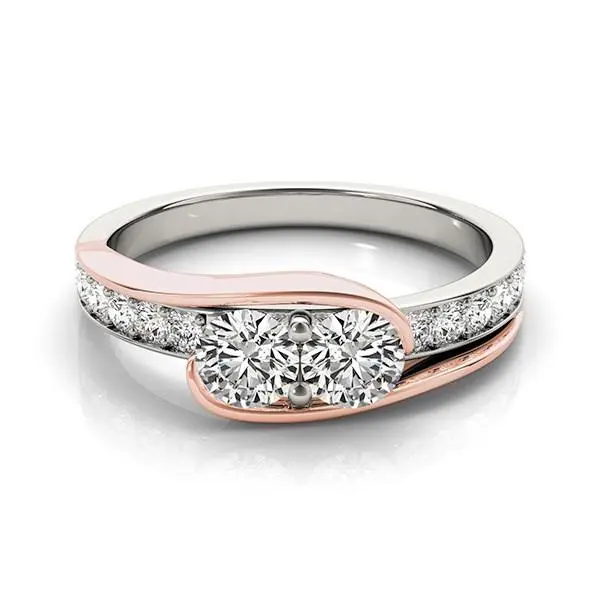 How to Choose Jewelry for your Wedding Day
Image Name: Choose Jewelry for your Wedding Day
ALT-TEXT: Bridal Jewelry
Image Description: A Person Wearing a Necklace
Tying the knot soon? Congratulations! It's time to start preparing for the big day! Isn't there a lot to do? There are so many choices, from the dress and food to the cake and venue! However, let's not forget one thing that can make you shine on your wedding day. Yes, we're talking about bridal jewelry!
Even though the dress is mostly the main focus of wedding preparations, choosing the right jewelry is equally essential to complete your look. Jewelry adds that oomph factor to your wedding dress. But how do you choose the right jewelry when there are so many different options?
Necklaces, rings, or bracelets; gold, silver, or platinum; you have a wealth of options to choose from. To help you out, we have made the jewelry decision-making process easy for you. Here are some simple tips that will help you choose fine jewelry for your big day.
Tips for Bridal Jewelry Shopping
The most important tip is that your jewelry should go well with your overall look, including your dress and hairstyle. Jewelry that doesn't match can overshadow your dress or look slightly unflattering.
Now, let's get more specific with the tips.
1. Keep Your Dress Style in Mind
The purpose of jewelry is to complement your dress. Hence, the first thing you should consider while shopping for bridal jewelry is the style of your dress. Jewelry in the right contrast to the dress style always creates an appealing look.
If your dress is heavy and elaborately embellished, go with less and simple fine jewelry. Why? Because wearing bold or excess jewelry over a heavy wedding dress will make you look overdone and overwhelming.

Similarly, you can go heavy with the jewelry if your dress is elegantly simple. For example, a heavy bejeweled necklace can take the look of a simple dress to a whole new level.
2. Match the Color of Your Wedding Dress
Now you must be thinking, "aren't most wedding gowns white?" Yes, they are, but white also comes in a wide variety of shades that differ oh so slightly from each other. Some trending bridal gown colors are bright white, white, ivory, and champagne.
The color of the metal you choose for your wedding jewelry should blend well with the shade of your gown. Refer to the points below to see which color jewelry you should go for.
If your dress belongs to the brighter or cooler shades of white, choose white gold or platinum.
If your gown is more inclined towards warmer tones, the best options for you might be yellow or rose gold jewelry.
If you wear a gown that's a different shade from white, check out which color jewelry will go well with it before making your final decision.
Let's talk about multi-colored jewelry too. Although multi-colored jewelry is beautiful to the eye, it might not match well, or worse, will take the attention away from your dress. Hence, it's better to save those multi-colored jewelry pieces for any other day than your wedding.
3. Choose According to Your Neckline
We hope you are taking notes because we will now talk about the most crucial part of choosing bridal jewelry: the neckline of your dress.
A necklace is one of the most prominent pieces of jewelry. Hence, you need to pay extra attention when selecting a necklace for your wedding day. The choice of your necklace should depend upon the style of your neckline.
Bridal dresses have different styles of necklines, like strapless, sweetheart, V, and halter. Now, which style of necklaces will suit each of these necklines?
Short-length chokers look amazing over strapless necklines because they beautifully settle in the middle of the exposed skin on your neck.

With a sweetheart neckline, you should check out medium-length pendants. They complement the dip in your sweetheart neckline perfectly. Like this Freshwater Pearl Necklace that is 18 inches with 2 inch extensions.

If you are wearing a halter neckline, you should skip the necklace and go for bold earrings and shimmering bracelets instead. Halter necklines don't leave much room for a necklace anyway.

Pendant or choker necklaces can add a beautifully dramatic effect over a V-neckline. Depending on your mood, you can pair these necklaces with dangling earrings or studs.
4. Go Minimalistic With Bridal Jewelry
A fair warning: bridal jewelry can be irresistible!
You will find so many attractive pieces that it might be hard to resist wearing all of them. However, remember that minimalism is trending nowadays! Try not to go overboard with your jewelry.
Too many jewelry pieces might outshine your dress. Hence, it is better to stick to a few exquisite pieces that blend well with your overall look. For example these pair of cultured freshwater dangle pearls. Simple. Chic. Yet Elegant.
5. Make Sure the Jewelry Suits Your Hairstyle
The choice of your hairstyle also influences how your jewelry looks, especially earrings. Most hairstyles can be divided into two major categories: up-dos and down-dos.
Up-dos provide you with more flexibility when it comes to jewelry. Firstly, you can choose pretty hair jewelry like beads and pins to hold your hair up. Plus, you can wear a pair of bold and attention-grabbing earrings if your hair is out of the way. In fact, even a pair of simple studs will be instantly visible with an up-do hairstyle.
However, make sure your hair jewelry matches the other pieces you decide to wear. For example, you can keep your necklace and earrings simple if you choose an eye-catching hairpiece.
Down-dos look delicate and beautiful on a bride. But if you choose to go with a down-do on your big day, you will have to be more careful while choosing jewelry. Why? Because your hairstyle may compromise the visibility of your necklace and earrings.
Final Words
Remember that whatever you wear on your wedding day will look beautiful on you. In the end, all that matters is your comfort and style. Don't choose something just because it's trending. After all, what's the use of wearing something that doesn't make you feel happy and confident?
The tips mentioned here will ensure that you choose jewelry that suits your dress, your look, and makes you shine on your big day!
To choose from a wide range of products that match your dress and style. You can visit us at https://smitajewelers.com.